From Open Edition
Open Edition
Open Edition was founded in 2009 by Flatbed Splendor to explore the philosophy of FLOSS (Free/Libre/Open Source Software) through the medium of the artist's book. In this exploration, the artist's book is considered both for its potential as a free information technology and as a free cultural work. As such, Open Edition is an attempt to extend the Free Software Foundation's "four essential freedoms" to the users of the artist's book, integrating FLOSS with the art of making books by hand. Open Edition advocates for the understanding and use of free software, particularly in the book arts community, by supporting relevant practice, scholarship and pedagogy.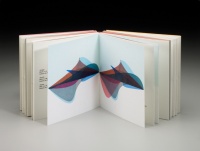 Fibre Libre is the first manifestation of the Open Edition project. Fibre Libre is a collaboratively produced artist's book that combines the traditional processes of handmade paper making, letterpress printing, and book binding, with the contemporary processes of coding, digital image-making and desktop publishing.

This wiki is the organizational hub for the Open Edition project, serving both as a means for experimentation and as a forum for discussion. Anyone is invited to join the wiki and begin editing and/or adding content. For more information about the Open Edition project, please visit Flatbed Splendor's website.

Consult the User's Guide or the MediaWiki FAQ for information on using the wiki software.